SEO
Use Ubersuggest Keyword Data To Automatically Generate Content
While Article Forge is the fastest way to produce high-quality content, a good SEO strategy starts with keyword research. With so many keyword research tools available, however, it can be overwhelming to choose the right one and know how to effectively use it to improve your website's visibility on search engine results pages.


That's why we decided to test the most useful keyword research tools and develop step-by-step workflows to guide you from keyword research to publishable content.
Ubersuggest offers extensive filtering options to easily analyze large sets of keywords and select those with the most potential. The tool also includes additional features such as site audits for technical SEO issues, rank tracking to monitor content performance, and backlink analysis, all available at no extra cost.
---
Ubersuggest provides keyword research functionality that rivals the likes of Semrush and Ahrefs at a much more competitive price. Beyond this, the founder, Neil Patel, designed the tool to be useful for beginners and experts alike. Most importantly, Ubersuggest offers an intuitive way to find keyword opportunities even in "saturated" markets.
Specifically, this post shows you the actionable steps for using Ubersuggest to find keywords you can rank for. Then, how to use these keywords to automatically generate content with AI.
Contents:
The Best Way To Use Ubersuggest, Step By Step
Step 1: Getting Started
Log into Uberuggest
If you do not have an account, you can create one for free here. You will have to enter your name, email address, and password. Once this is done you will be good to go!
Once you log in, you will quickly realize that this is far more than a keyword research tool.
Rather, Ubersuggest is a comprehensive SEO tool that offers traffic and competitor analysis, site audits, and even a backlink analyzer.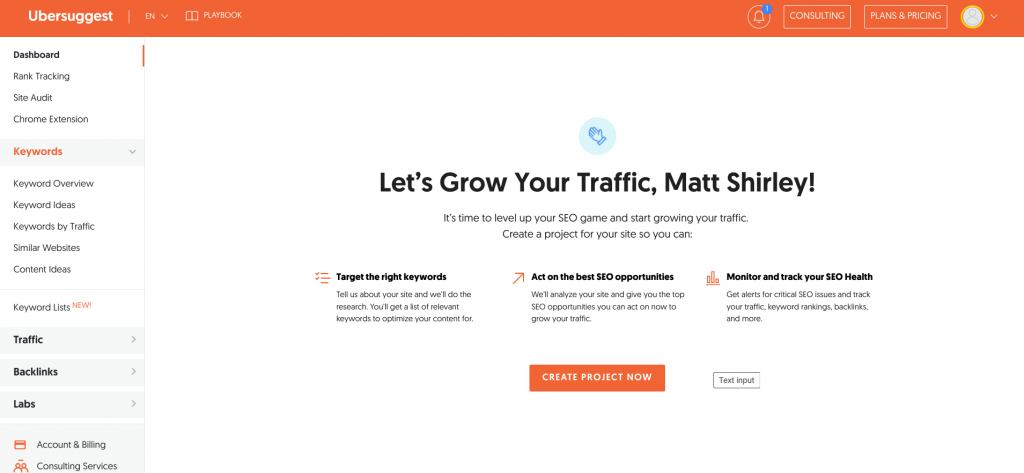 While these features are great for SEOs, this guide focuses on the most actionable way to perform stress-free keyword research with Ubersuggest. And more importantly, how to turn that data into publishable content with minimal effort.