Tech
4. Soovle – Best Tool For Generating Unlimited Content Ideas 
With Soovle, you can "let the web help" you. Soovle is unique in the sense that it is a search engine comparison tool. This means that Soovle compiles enormous amounts of data from various platforms including Google, Yahoo, Amazon, Wikipedia, and YouTube.
Soovle is also a great option for beginners who need instant content boost on their website. This is because Soovle is easy to use and it's free. You can generate thousands of blog post ideas if you want to.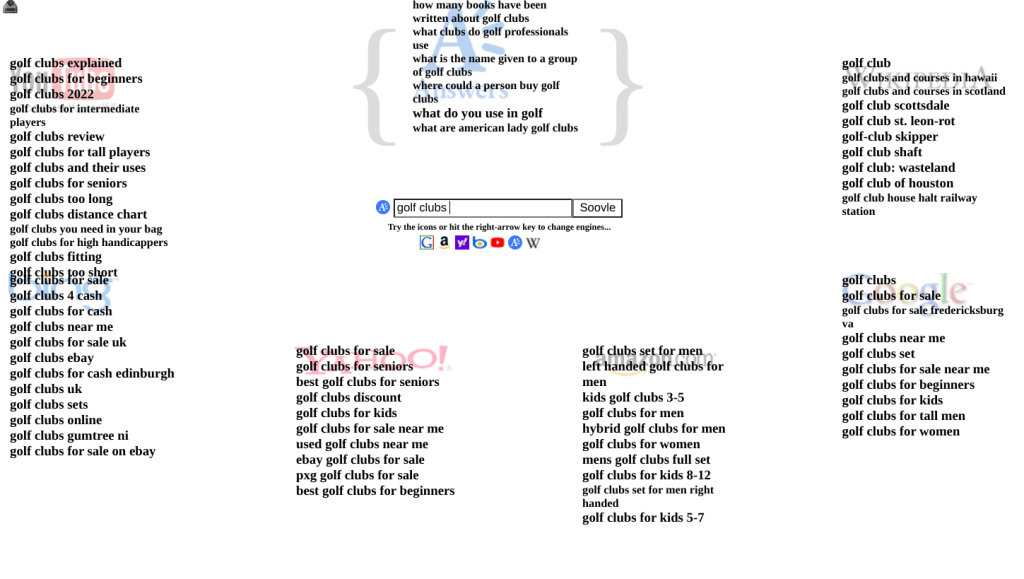 Pros
Allows you to see where there is commercial interest through Amazon search data.
If you are a small/medium-sized business implementing a content strategy through YouTube (as well as a blog), then Soovle can help you identify where to position your content to add the most value to your users.
Great for finding supporting content ideas. This will allow you to cover individual topics in more depth, helping boost your topical authority.
Cons
No search metrics. Therefore, without a secondary tool, it's virtually impossible to understand a keyword's difficulty, search volume, and revenue potential.
Sometimes the generated keyword ideas can be very similar. In these cases, you shouldn't bother to create two separate articles. Instead, just generate one piece of content that will cover all similar keyword variations.
Price
Free and Unlimited Use
Use Case
We would recommend using Soovle if you need content ideas. Soovle is one of the best ways to build out a long-term content plan, so this sounds like you, check out Our Full Guide To Keyword Research With Soovle.
5. Ahrefs – Best Tool For Finding Long-Tail Keywords
Ahrefs is a household name in the SEO and keyword research world and no list of tools would be complete without mentioning them. By entering a seed keyword into the generator and clicking "find keywords" you will see various long-tail versions of your keyword that you can enter into your content calendar.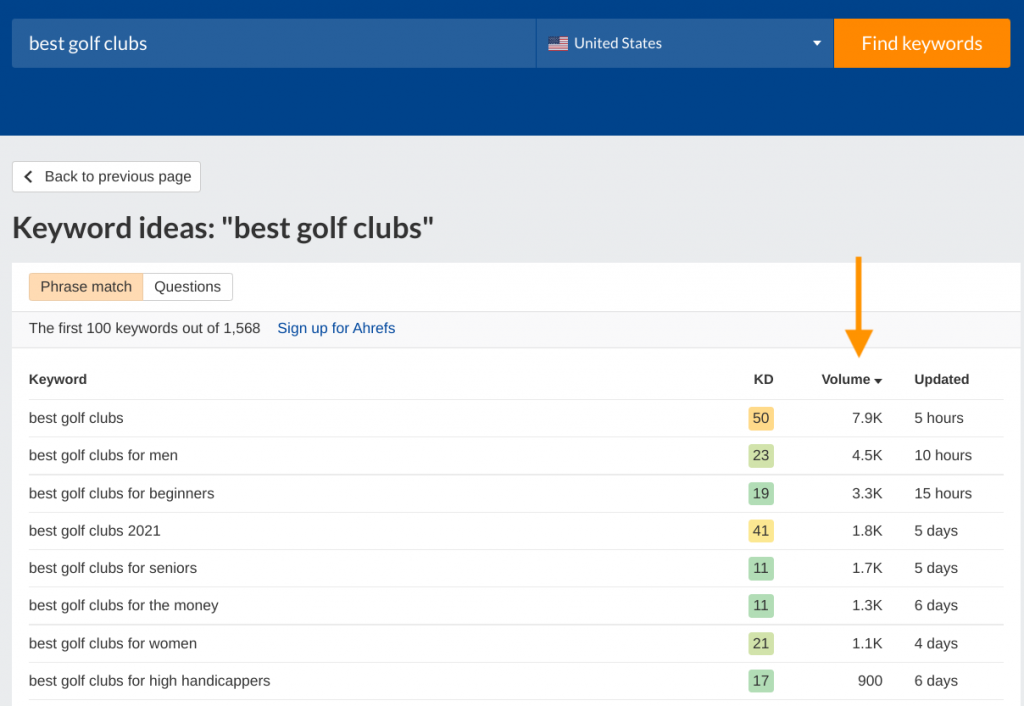 Pros
Accurate search metrics e.g. keyword difficulty and search volume due to Ahrefs having access to a massive database.
Ahrefs generates some really unique long-tail keywords. These keywords will often be great keyword opportunities for your website. This in turn will help you improve your rankings and your traffic.
Cons
While Ahrefs' free keyword generator is good, it's limited when compared with what is offered by some competitors.
A paid account is a significant investment that not everyone is willing to pay. Shared accounts are also against the Terms of Service.
Price
Free keyword generator option available
Plans start at $99 per month
Use Case
We would recommend using Ahrefs if you want an all-bells and whistle-included approach to keyword research. Not only does Ahrefs display really valuable metrics, it is also a brilliant tool for finding low-difficulty, long-tail keywords that you can rank well for. If this sounds like what you need, check out Our Full Guide To Keyword Research With Ahrefs.
6. Ubersuggest – Best Tool For Finding Low-Competition Keywords
Ubersuggest was created by SEO and keyword research expert Neil Patel. Therefore it's understandable that Ubersuggest has some big expectations surrounding it. With that said, we definitely believe that Ubersuggest lives up to and even exceeds what we like in a keyword research tool.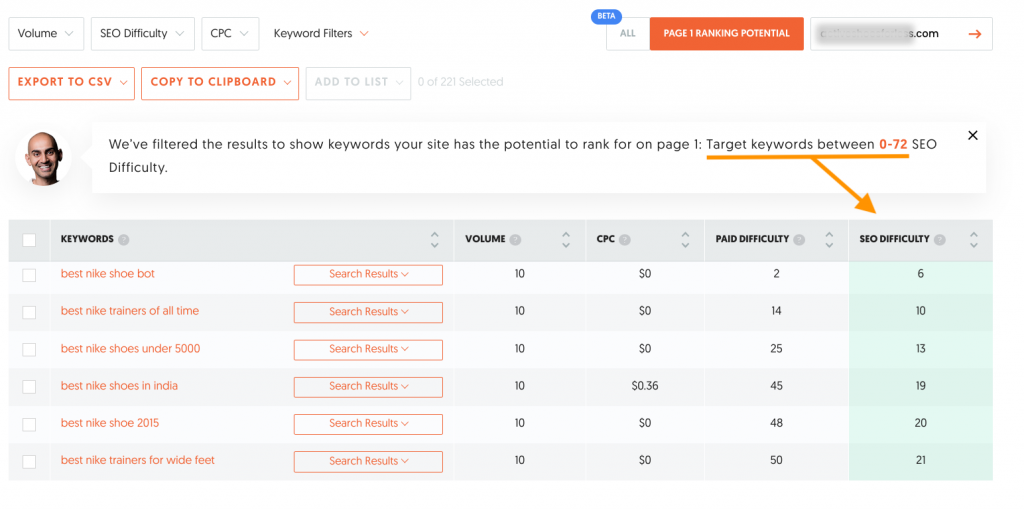 Pros
The filtering options in Ubersuggest are immense. In simple terms, this means that it is really easy to analyze large sets of keywords and carefully choose the ones that have the greatest potential. We like to filter our lists by "page 1 ranking potential" . This is a great way to find the keywords that you can realistically rank well for, helping you to see much quicker results from your SEO content strategy.
Alternatively, you can filter your keywords by CPC (cost-per-click) . This is a solid way to find keywords that are more likely to be highly profitable.
Ubersuggest has loads of additional features that you can use for no extra cost. These include performing site audits to find technical SEO issues, rank tracking to see how well your content is performing, and backlink analysis.
Cons
The free version of Ubersuggest is limited as you can only perform three searches a day. With that said, you can sign up for a complete functionality free trial for 7 days to discover whether it would be beneficial to subscribe.
Price
Free 7-day trial
Plans start at $29 per month or $290 for lifetime access
Use Case
We would recommend using Ubersuggest if you are looking for a user-friendly keyword research and SEO tool that's great for identifying keywords you can realistically rank well for. So, if this sounds like you, check out Our Full Guide To Keyword Research With Ubersuggest.
7. Wordtracker – Best Tool For Understanding Your Competition
Wordtracker is a relatively unknown keyword research tool, but it's a really great option for anyone looking for an affordable tool to use for keyword research.

Pros
The metrics that you will find in Wordtracker are really comprehensive. As well as finding pretty accurate keyword difficulty and search volume scores, you can also look at historical data (think Google Trends) and an IAAT rating. IAAT stands for "In anchor text and title" (how many webpages are using the keyword in context). For this reason IAAT is great for measuring the true competition of any keyword.
Wordtracker is fantastic for conducting SERP analysis. Every keyword that you find in Wordtracker is also accompanied by a table that shows you the off-page SEO profile's for the posts ranking on the first page. This is awesome as it will show you the number of backlinks, referring domains, "link juice", and true difficulty that is associated with each keyword.
Cons
It's a bit too "metric heavy" for SEO newbies. The various metrics and scoring can be off putting and confusing. Certain metrics in Wordtracker like CF and TF will confuse most people and may make conducting keyword research feel tedious.
Price
Free 7-day trial
Plans start at $27 per month, or $17 per month when paid annually
Use Case
We would recommend using Wordtracker if you want an easy way to include SERP analysis in your keyword research. If this sounds like you, check out Our Full Guide To Keyword Research With Wordtracker.