Tech
1. Google Trends – Best Tool For Comparing Keywords
Google Trends isn't a typical keyword research tool. However, it is a very interesting keyword comparison tool. Trends is offered by Google primarily so that businesses can make data backed decisions based on search behavior, but you can easily repurpose it for keyword research.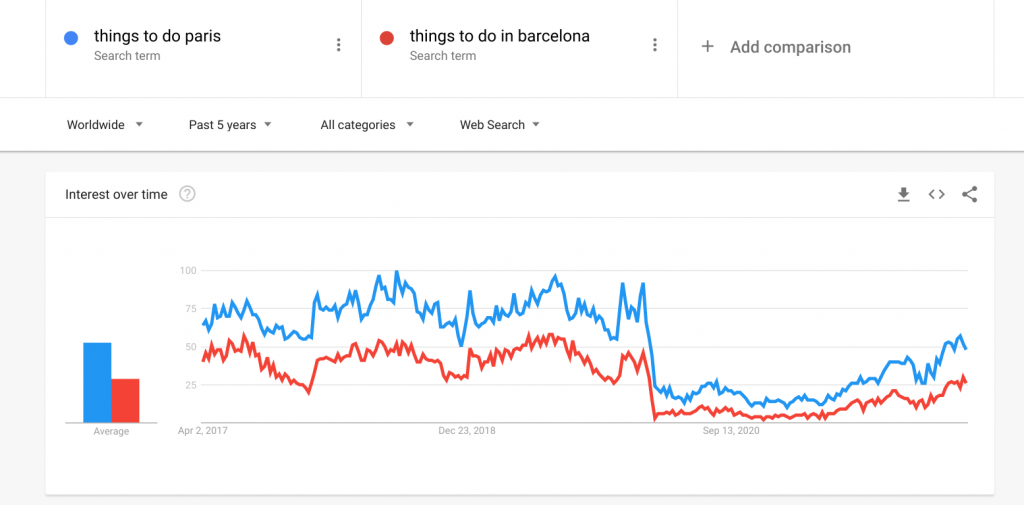 Pros
Allows you to quickly identify and compare patterns and "trends" in search volume data. This can help you plan your content output based on factors like seasonality and user location.
Helps you to analyze and compare user demographics and create the content your target audience is actually looking for.
Google Trends shows you "rising" and "top" queries related to your primary keyword. This is an excellent way to find additional content ideas to fill out your content calendar.
Cons
It doesn't offer popular search-related metrics like keyword difficulty and estimated volume. This doesn't matter too much if you're using our AI content generation process, but it still might feel like you are "shooting in the dark"
Price
Free and Unlimited Use
Use Case
We would recommend using Google Trends if you are just starting out and want to use a free tool to compare which keywords you should prioritize. If this sounds like you, check out Our Full Guide To Keyword Research With Google Trends.
2. Google Keyword Planner – Best Tool For Finding High-Profit Keywords
Like Google Trends, Google Keyword Planner is not specifically intended for SEO keyword research. The data displayed in Google Keyword Planner is actually designed to be a valuable resource for people looking to buy Google Ads.
However, as a company that focuses on generating organic content (and lots of it), we have found an advantageous way to "exploit" Google Keyword Planner to find highly profitable keywords for our organic SEO content strategy.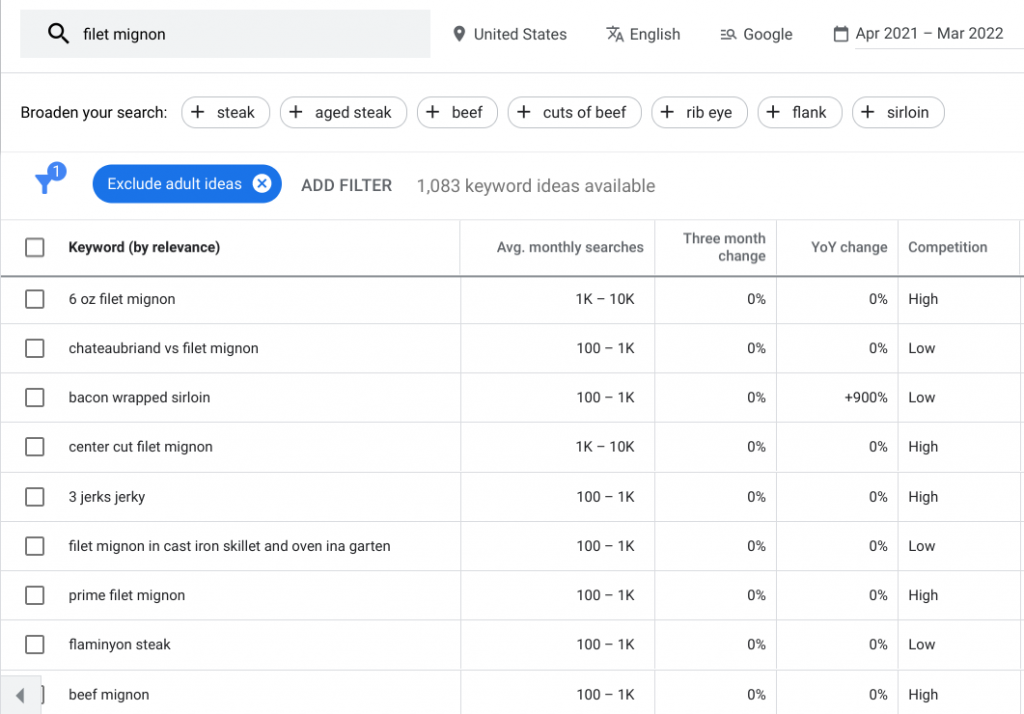 Pros
All data comes directly from Google rather than any third-party sources. In turn, this improves the integrity of all the displayed metrics.
Google Keyword Planner has a "top of a range bid" metric. This demonstrates how much money an advertiser is willing to pay for their advert to be displayed for a particular keyword. Higher bids virtually always mean profitable keyword opportunities. Therefore by using Google Keyword Planner, you can quickly identify keywords with high revenue potential.
Cons
Search volume data is vague and doesn't provide real insight into the number of visits you could realistically expect from an SEO-optimized keyword-focused piece of content.
Google Keyword Planner is primarily a tool designed for advertisers. Therefore the competition metric refers to PPC competition and isn't relevant to organic content.
Price
Free and Unlimited Use
Use Case
We would recommend using Google Keyword Planner if you want to take a data-driven approach to keyword research. Specifically, we recommend using this tool to help you make decisions based on profitability. If this sounds like you, check out Our Full Guide To Keyword Research With Google Keyword Planner.
3. QuestionDB – Best Tool For Creating Valuable Content
QuestionDB serves an instrumental and unique purpose. QuestionDB is a relatively "unknown" keyword research tool unlike most of the tools on this list. While it doesn't offer detailed metrics like some other tools on this list, this isn't necessarily a disadvantage.
However, QuestionDB is the perfect keyword research option for people who want to create meaningful content that serves their customers. As you know, the benefits that accompany creating excellent content are virtually endless: better user interaction/experience, more social shares, more backlinks, more traffic, more trust, and eventually much more money.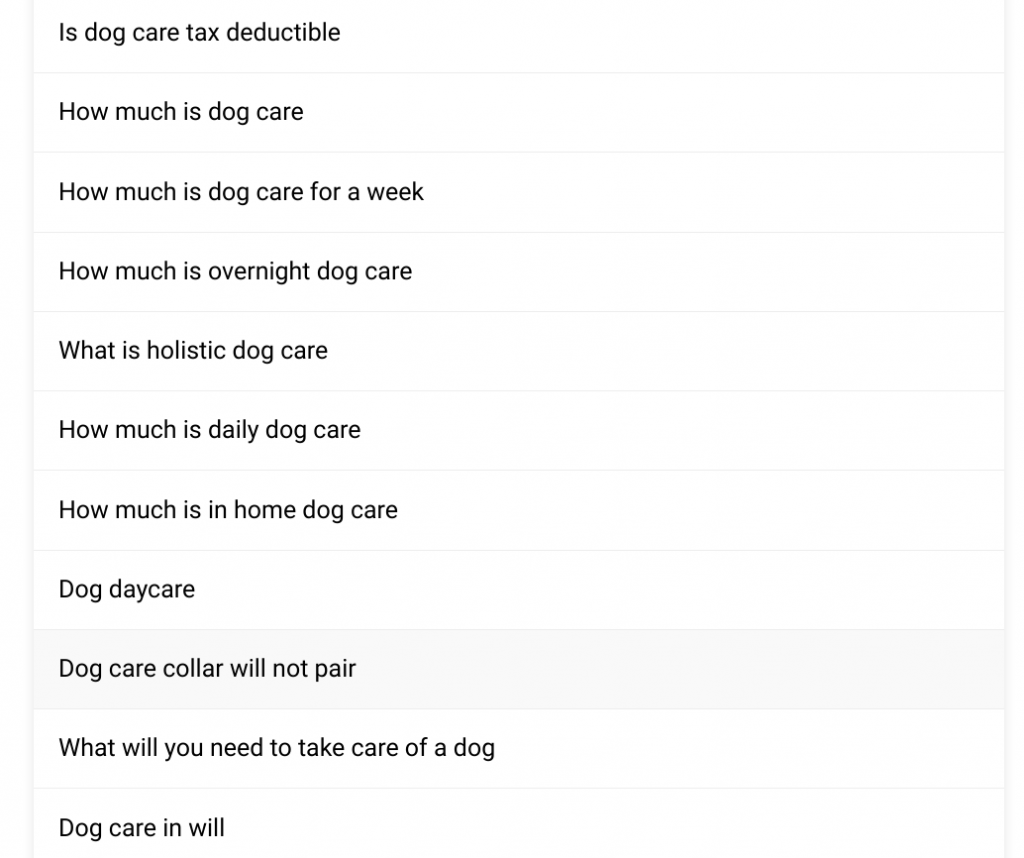 Pros
Allows you to cover particular topics in significantly greater detail, helping you to create more authoritative content; this can situate you as an expert within your niche.
Helps you to create concise and optimized answers for common user questions. This will enable you to satisfy search intent better and appear in Google's featured snippets.
No email or credit card is required to sign up. It's completely free.
Cons
While finding questions to answer through this tool is fantastic, the keyword ideas are not usually as exciting or as helpful.
QuestionDB doesn't provide any specific search-related metrics. This means there is no search volume, keyword difficulty, historical data, etc.
Price
Free and Unlimited Use
Use Case
We would recommend using QuestionDB if you want a free tool where you can find popular questions to help you create more helpful content. If building credibility is important to you, check out Our Full Guide To Keyword Research With QuestionDB.